Travelling with your Dog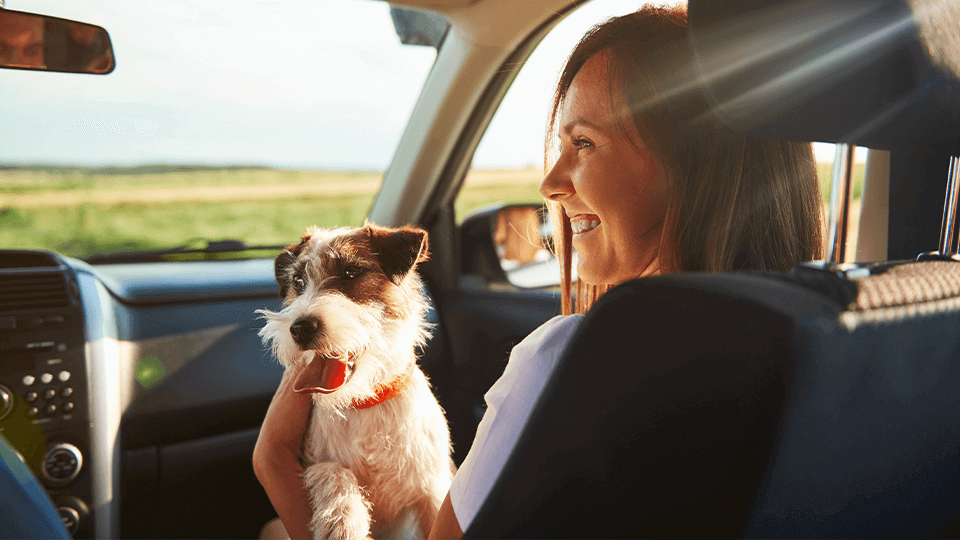 Sometimes you need to take your dog with you on a trip, or just transport them from one place to another. Here are some tips you need to know before you go.
Car Travel
You need to know how your dogs is going to react when in a vehicle, especially if you're planning to drive frequently with them or take them to the vet by car. Most dogs will be fine and might enjoy it, adjusting to the experience easily, but some will hate it and need to be put in a cage or have the proper restraints to keep both you and them safe. The last thing you need when driving down the road is your dog peeing from fear, nervousness, or excitement, or barking up a ruckus as you're trying to concentrate on the road.
A test run is a good idea before you go on your trip so take your dog for a few drives and see how they go. you're travelling with people unfamiliar with your dog, make sure a few meet and greets are done before you go. Training your dog when you first welcome them into your life is the ideal way to teach them good habits early, but old dogs can still learn new tricks!
Schedule more stops
If your dog is enclosed in a carrier it is important they get out and stretch. We recommend once every hour for a good ten minutes, which may also help you manage fatigue while driving.
Medication
If your dog gets too excitable or struggles being caged, you can speak to your vet about some relaxing medications for the trip if it is increasingly becoming an issue, or if possible, travel with someone who can provide them some reassurance and a sense of safety.
Restraint
It's important to have some kind of restraint for your dog in case of an accident or sudden braking. This is not only a safety precaution for your dog but also for the occupants. Dogs are light and will get propelled into the closest object, seat, passenger, or driver.
Ventilation
If your dogs is in the back part of the car it may be struggling to get adequate ventilation. You may be driving with the window down, feeling the cool breeze but that does not mean the back of the car is getting fresh air, especially if dogs are behind seats or travel luggage. Ventilation is essential for dog travel along with cool in-car temperatures. It's especially important to never leave them in a car without the windows down or in hot temperatures, even temporarily.
Water
Offer your dog water frequently throughout the trip – dogs will dehydrate much faster in a car.
Dogs and planes
Most dogs are allowed to travel on a plane comfortably in the cargo area, but only service animals can ride in the plane in Australia. Most Australian airlines have similar travel guidelines:
Dogs must be over 8 weeks old.
Certain dog breeds can only travel limited hours.
Certain dog breeds can't fly at all.
Ensure you check with the airline what restrictions may apply and what you will need to bring. Remember, preparation is the key to a great travel experience.
A great way to train your dog is using treats as positive reinforcement or to reward good behaviour – don't forget their favourite snack for a long ride, like a Pigs Ear to keep them chewing and satisfied for ages, or try something from our Super Snacks range to encourage them to feel more comfortable in the car.